Engagifii LEGISLATION
Track, Monitor, Organize, Analyze
Engagifii LEGISLATION is designed to meet you at the intersection of your organization and the legislature. Whether you are looking to share legislative information publicly or privately, track decision making at the federal and state levels, or communicate legislative changes to your stakeholders, Engagifii LEGISLATION can help you do just that. With customizable permissions, Engagifii gives you the ability to control each individual's access to your system. From employee to member, counselor to lobbyist, there's functionality to unify and engage the whole team and your customer or member base across the issues that mean the most to you.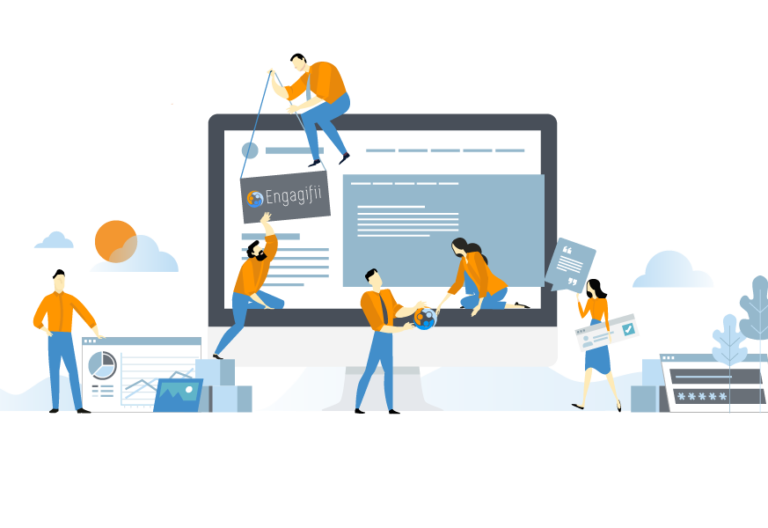 Get automatic updates and share information with key stakeholders without spending hours manually combing through legislative updates. Learn how Larry uses Engagifii LEGISLATION to enable collaboration and get valuable feedback on a bill's impact — and then distribute that intelligence via dynamically-generated legislative reports with one click.
When we know better, we do better
State and Federal Legislation Tracking
Stay informed on the issues that matter most to you and your people. Identify bills and track legislation from any of the 50 states and at the federal level. Engagifii conveniently includes easy access to bill summaries, a place for you to share staff analysis, committee info, voting records, and legislators' contact information, combined with integrated communication tools and modern dashboards simplifying engagement for maximum impact.
Set customized alerts to notify the right people when there is a change to any legislation you are tracking or when bills are introduced that are relevant to your organization and cause. Quick alert emails or text notifications (depending on your preferences), keep you engaged and focused on what you define as most important.
Politics can be noisy, confusing, and constantly in flux. Keep up with your legislators and their voting history with robust reports and scorecards. Get bios, sponsored bill lists, and contact information for key staff, all from the unified experience of Engagifii.
Committee Tracking Calendar
Don't miss a beat. Stay informed of important committee meetings with the Engagifii Committee Calendar integrated into your legislation tracking system.
Create custom searches and get alerted when new bills are introduced that match your previously saved searches. Search through bill titles or through bill text for keywords or phrases. Advanced search features help you find exactly what you need, without spending hours sorting through pages of information.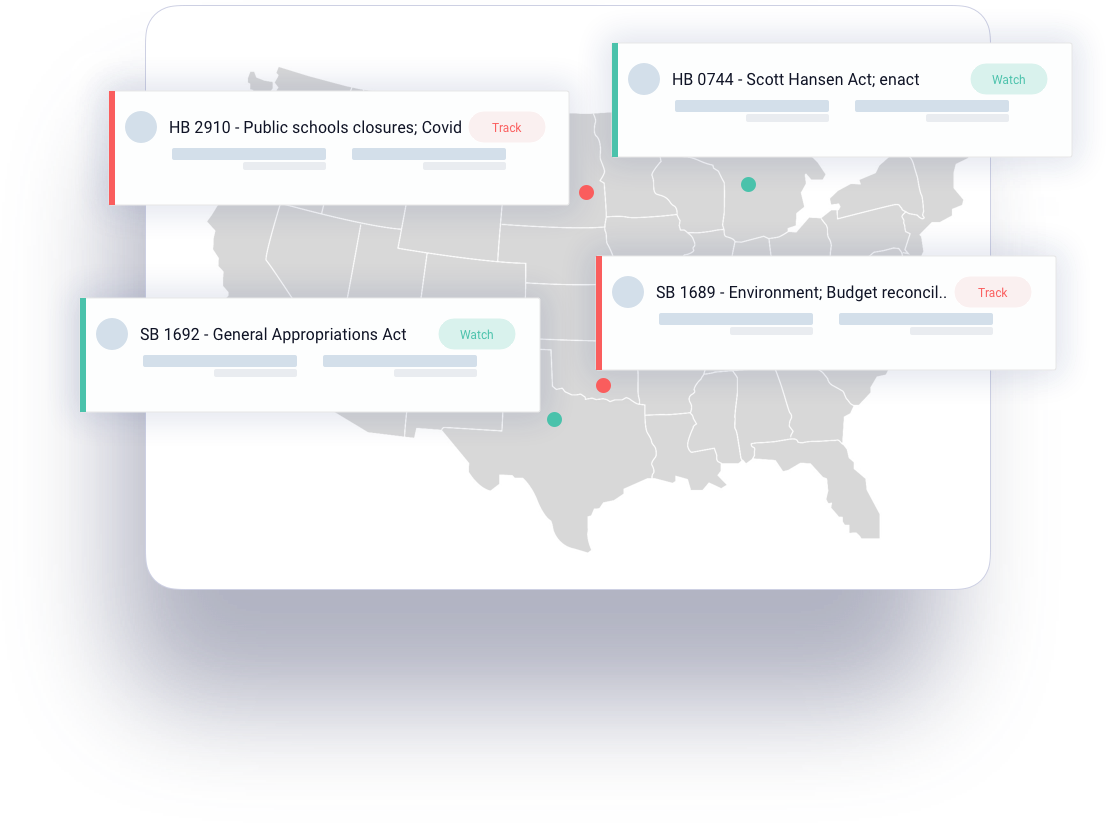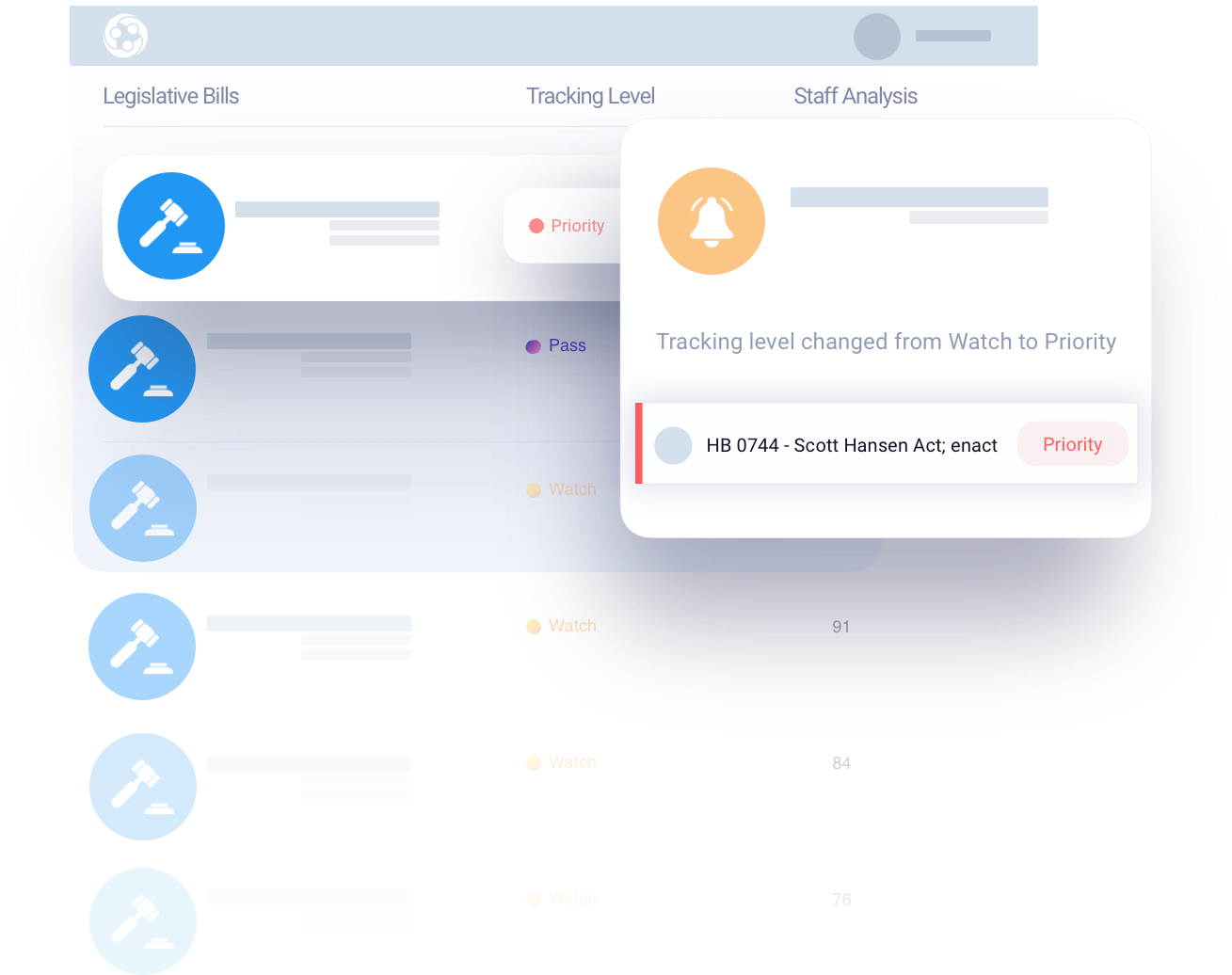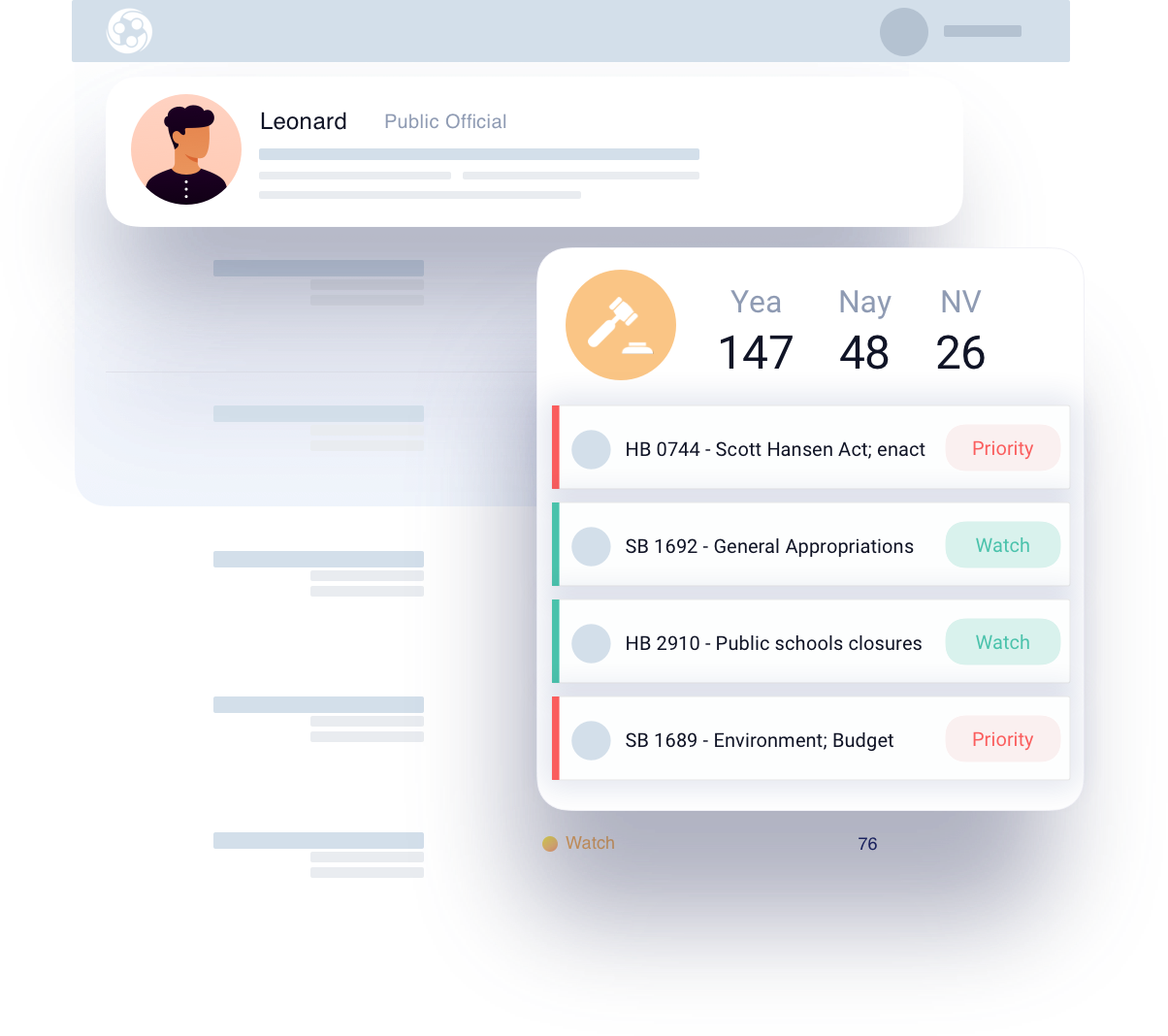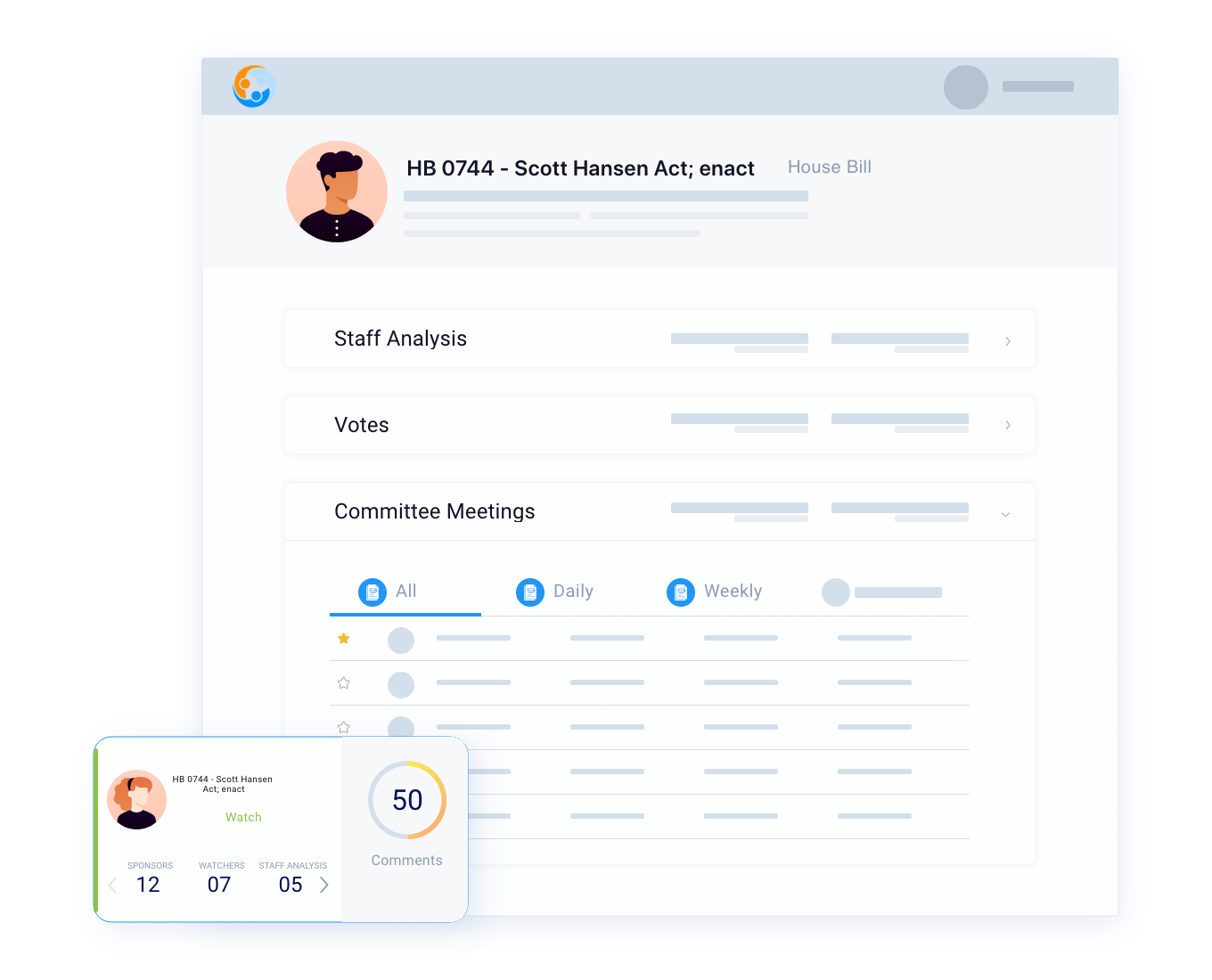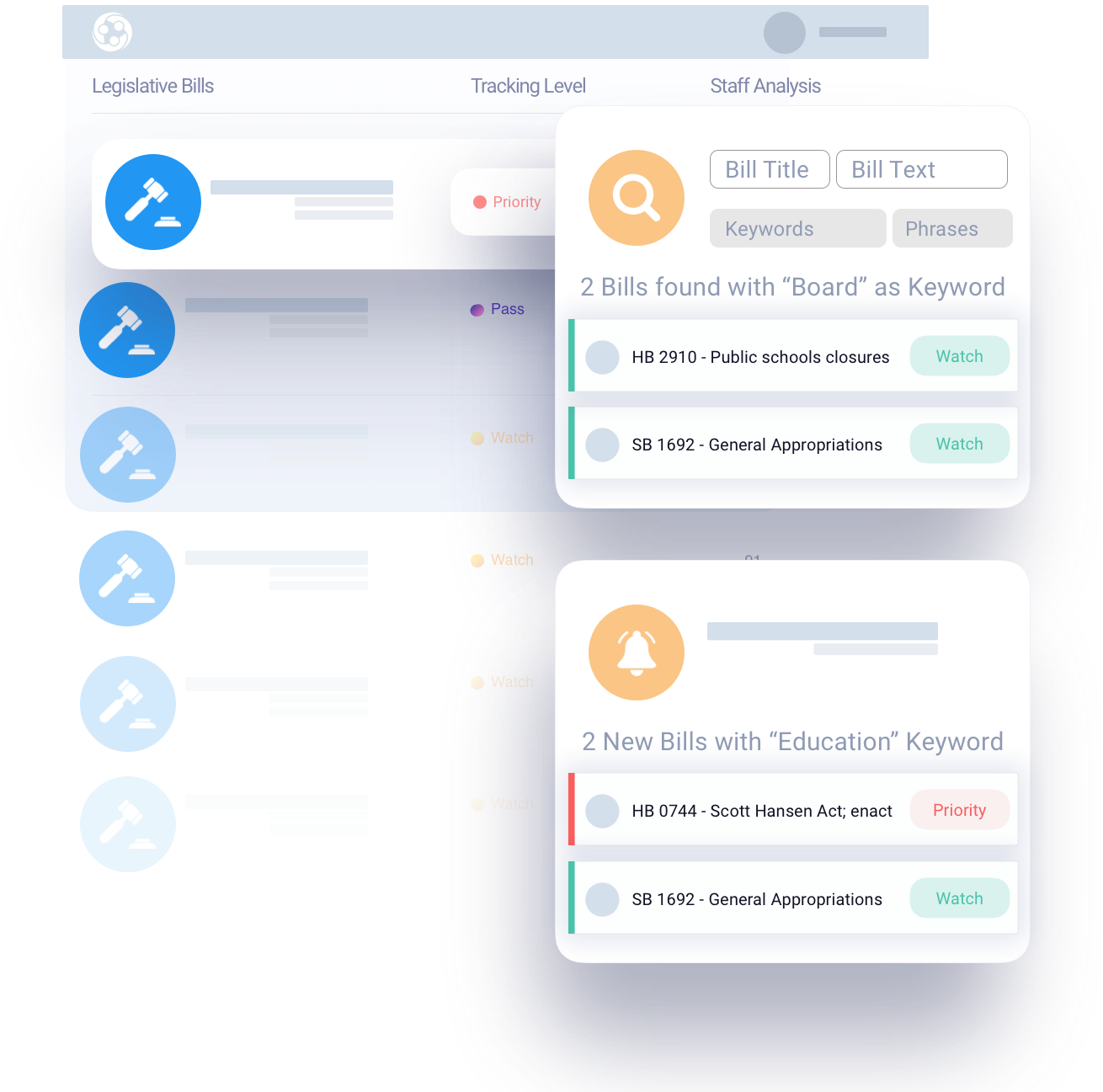 Zoom from macro to micro and back again with ease.
Each user has the opportunity to personalize their own experience with legislation via custom widgets and individual dashboards making it easy to organize and find the information each of them requires quickly. Personalization keeps users engaged in the process of tracking moving targets and data to keep you and your organization operating and engaging as efficiently as possible.
Customized Categorization
Looking to engage your members around bills you support or bills you don't or subsect legislation by issue? Customized and categorized lists by tacking levels, bill positions, or bill tags help you build custom bill lists for your whole team to follow and observe.
Integration into Engagifii RELATIONSHIPS means that your staff, members, clients, legislative officials, organizations, and departments, all live in the same environment as the legislation you're trying to track or impact. A unified system makes it easy to share bill data, allow anyone to access legislation commenting, and communicate key information. Assign different permissions, roles, and access levels for everyone in Engagifii RELATIONSHIPS to interact with legislation as you, the organization, sees fit.
Engagifii LEGISLATION lives in the cloud– which means it goes where you go without being tied to a specific computer or desk. At the Capitol, a board meeting, or on the go, Engagifii LEGISLATION allows you to productively engage with lawmaking with legislative data available on any computer or handheld device.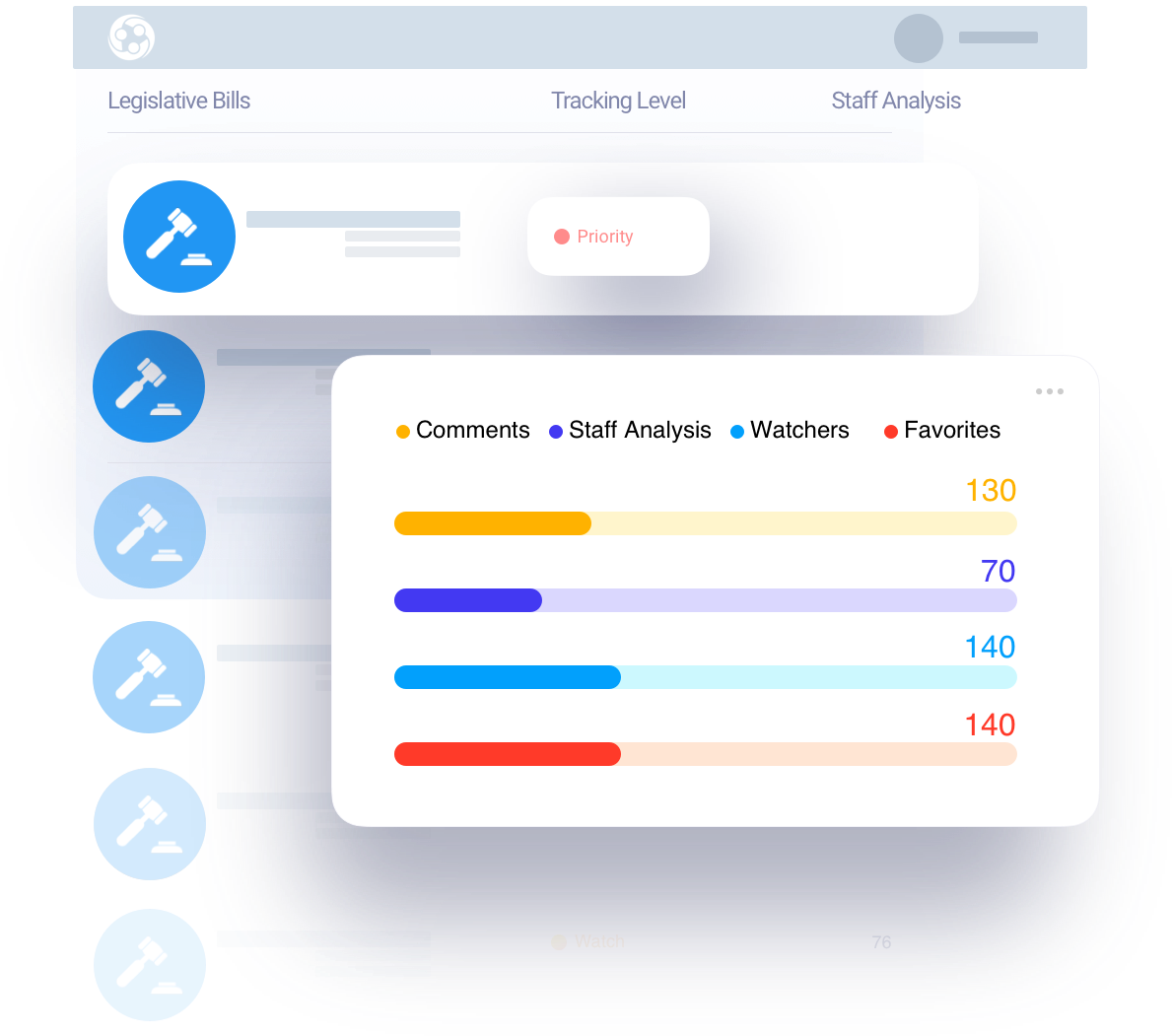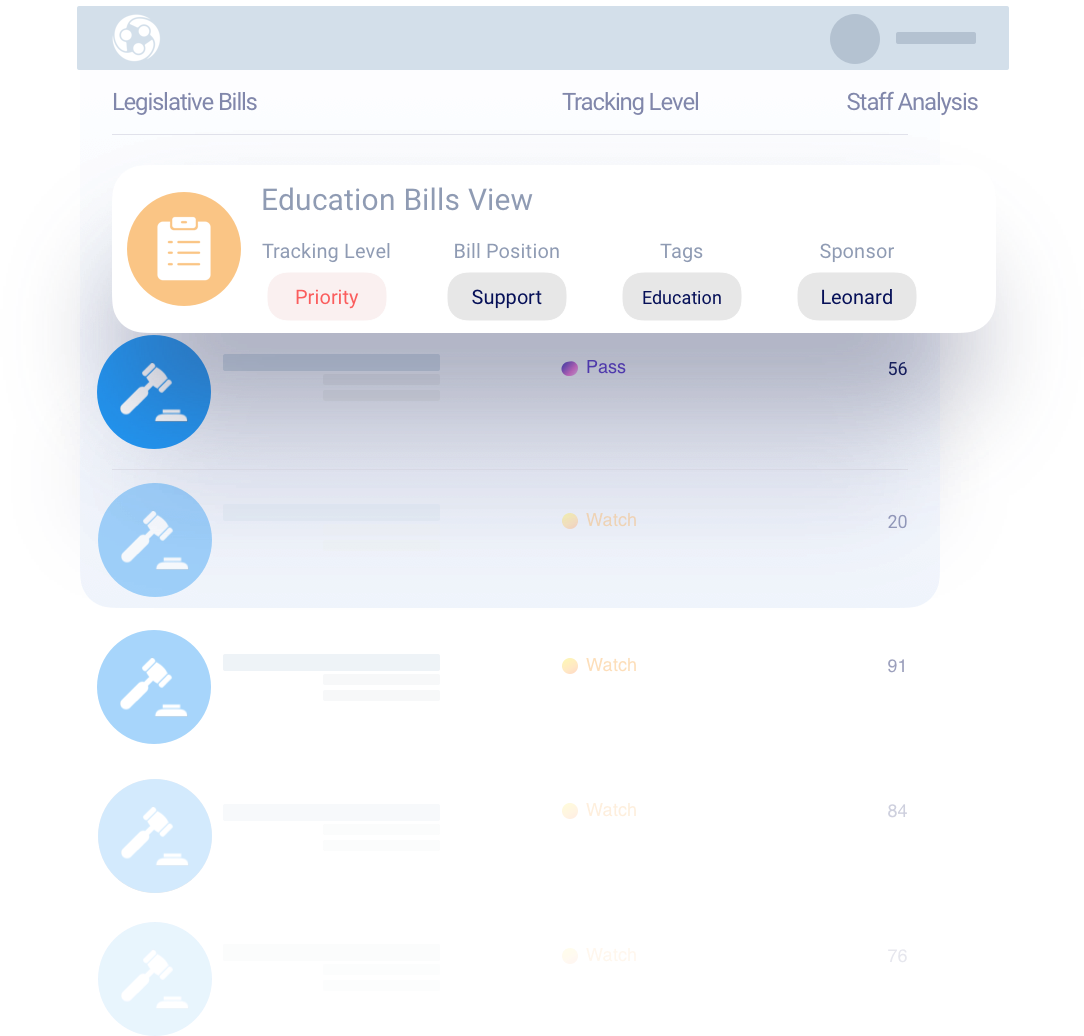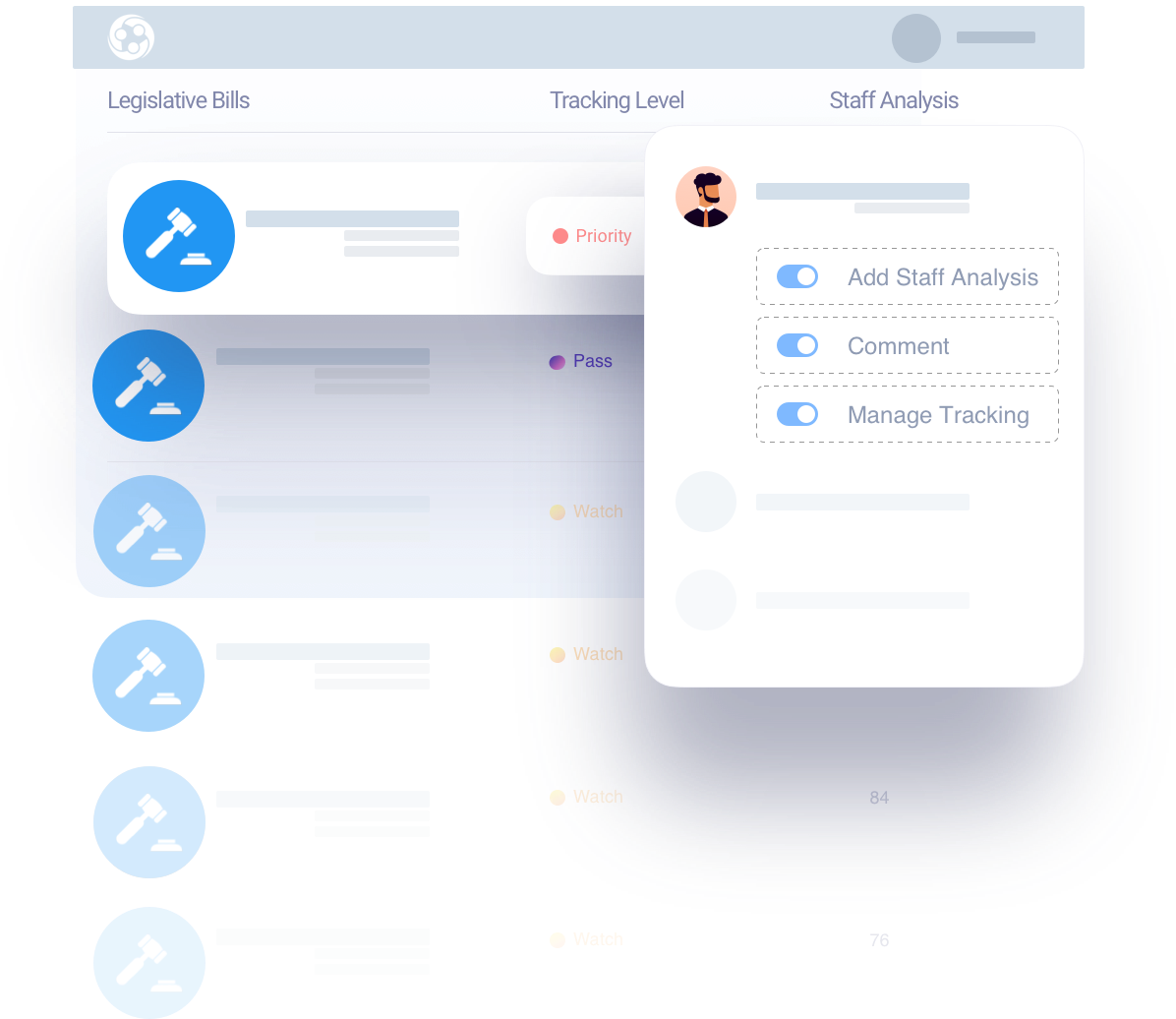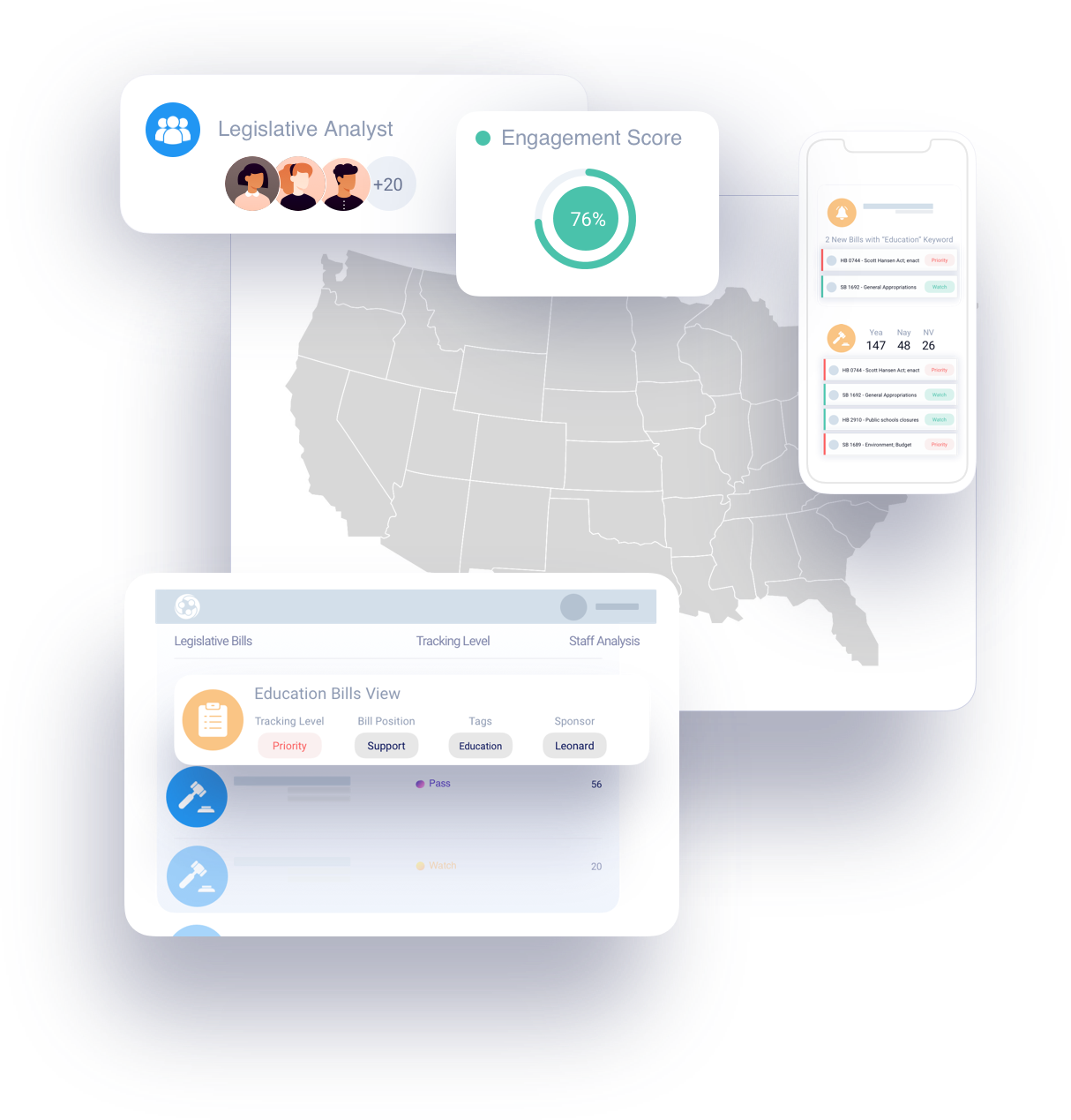 Make sure prolific decisions and information get to where they need to go.
Evolve your communication strategy and expand your engagement with smart reporting. Easily communicate information and updates to your audience with unlimited reports that are unique to your needs. Saved reports and templates mean saving time and never having to run the same report twice. Automatically generate your organization's most valuable insights with reports run on a schedule or by triggered alerts. Reports can be downloaded in CSV (Excel), PDF, or sent electronically via email or text message via Engagifii COMMUNICATION.
Collective and Thoughtful Collaboration
Engagifii LEGISLATION encourages more people to engage on the issues that matter most to your organization. Seamlessly request and receive feedback from key subject matter experts in a collaborative on-page environment. Custom permissions control which users can view, comment or view comments on legislation.
As you assess policy or review legislation, deliver personalized messages to your audience of stakeholders quickly through the Engagifii RELATIONSHIPS or write directly to lawmakers and their teams via the Officials Database.